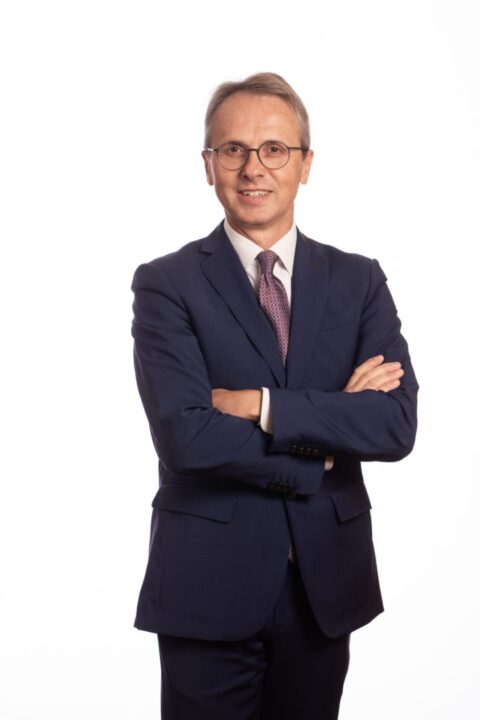 FR: Matteo Piccinali est un avocat d'affaires international, associé fondateur de Zaglio Orizio e Associati Studio Legale à Brescia it. Il est le promoteur du réseau mondial de cabinets d'avocats « I, Lawyer – Innovation Lawyer », regroupant les partenaires avec lesquels il a travaillé pendant plus de vingt ans en exerçant le droit en Italie et à l'étranger, notamment aux USA et en Chine où il a vécu de nombreuses années.  Matteo  Piccinali assiste des entreprises italiennes et étrangères, tant en Italie qu'à l'étranger, ainsi que des représentants actifs dans le secteur de l'art et de la culture (institutions muséales, conservateurs, conseillers artistiques, etc.).  Il est professeur invité à l'Université de sciences politiques et de droit de Shanghai, où il enseigne le droit des contrats et du commerce international, le droit des nouvelles technologies (informatique, commerce électronique et médias sociaux, blockchain et contrats intelligents, vie privée, etc.) et le droit de l'art.  En 2020, en collaboration avec l'Université de Shanghai, il lance le projet de formation académique « The SILC – Sino-Italian Law Clinics Project », visant à approfondir les problématiques relatives au droit de l'art et aux nouvelles technologies.  Il est également membre et contributeur de la Fondation pour le Droit de l'Art à Genève.
EN: Matteo Piccinali is an international business lawyer, founding partner at Zaglio Orizio e Associati Studio Legale and promoter of the global network of law firms "I, Lawyer – Innovation Lawyer", gathering the international partners that Matteo has met and worked with in more than twenty years practicing law in Italy and abroad, in particular in the USA and China where he lived for many years. Matteo assists Italian and foreign companies, both in Italy and abroad, as well as operators active in the art and culture sector (museum institutions, curators, art advisors, etc.). He is Visiting Professor at the Shanghai University of Political Science and Law, where he teaches contract and international trade law, new technologies law (IT, e-commerce and social media, blockchain & smart contracts, privacy, etc.) and art law. In 2020, in collaboration with the Shanghai University, he launched the academic training project « The SILC – Sino-Italian Law Clinics Project », aimed at deepening the issues relating to the law of art and new technologies. He is also a member and contributor of the Fondation pour le Droit de l'Art in Geneva.
Global Legal Briefing – COVID-19 Insights – May 2020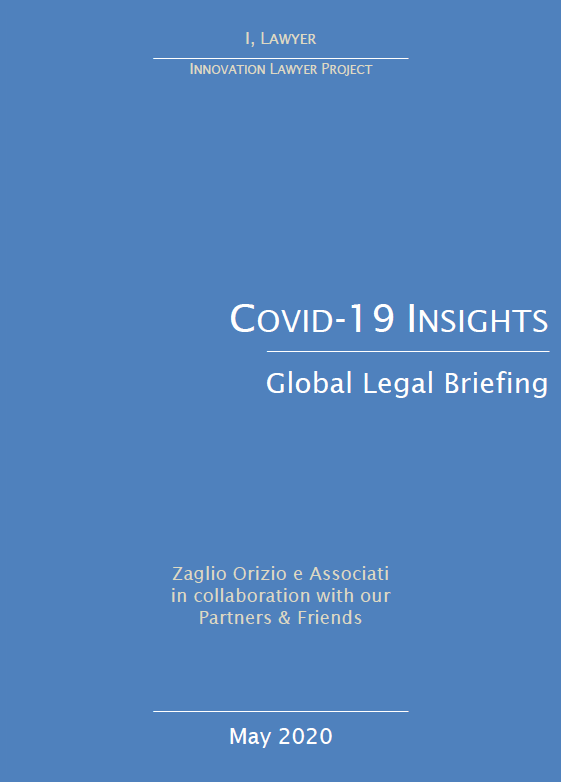 FR: Réalisé avec la précieuse contribution de bon nombre de mes partenaires dans le monde, les avis contiennent une brève analyse sur les implications juridiques liées à la pandémie. Ils offrent des perspectives et des idées intéressantes de portée générale dans les juridictions examinées.
EN: This work was elaborated with the precious contribution of many of my Partners around the world; the contributions contain a brief informative analysis of the legal implications related to the Pandemic and offer interesting insights and ideas of more general scope with regard to the Jurisdictions examined.
Download PDF
---
Global Legal Briefing, Edition 2021: Art & Law Insights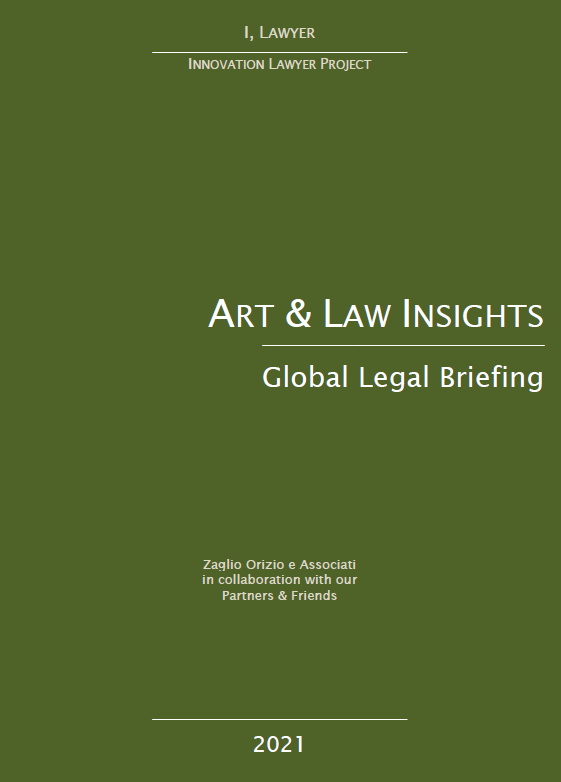 FR: L'ouvrage contient une analyse approfondie des lois de divers pays et marchés d'intérêt qui comprend 22 juridictions sur les 5 continents.  Il décrit le cadre des changements réglementaires les plus récents dans les domaines de l'art, de la culture et des nouvelles technologies.  En outre, l'ouvrage explore les aspects juridiques liés au commerce national et international des œuvres d'art, à la protection du droit d'auteur et à la gestion des œuvres et des collections dans le patrimoine des investisseurs et des collectionneurs. Une attention particulière est donnée à l'application des nouvelles technologies.
IT: Il lavoro contiene un'ampia analisi delle legislazioni di vari paesi e mercati di interesse che comprende 22 giurisdizioni nei 5 Continenti, atto a delineare il quadro delle più recenti novità normative in materia di arte, cultura e nuove tecnologie. Inoltre, il lavoro approfondisce gli aspetti giuridici correlati al commercio nazionale e internazionale delle opere d'arte, alla tutela del diritto d'autore e alla gestione di opere e collezioni nel patrimonio di investitori e collezionisti, con un'attenzione particolare rivolta all'applicazione delle nuove tecnologie nel settore in esame.
EN: The work contains an extensive analysis of the legislation of various countries and markets of interest, including 22 jurisdictions in the 5 Continents, aimed at outlining the framework of the most recent regulatory changes in the field of art, culture and new technologies. In addition, the work delves into the legal aspects related to the national and international trade of works of art, the protection of copyright and the management of works and collections of investors and collectors, with a particular attention to the application of new technologies in the relevant sector.
Download PDF